Whether it's taking the lost art of paper airplane building to literal new heights or it's infusing an ancient art with some 21st century gadgetry, these holiday gifts are geared to engage the hands, the hearts, and the minds of today's kids while eliciting zero moans, groans, or eye rolling.
I've been doing this list in some form or other for the last few years and every year more and more of my students' parents and local community members tell me how much they appreciate the suggestions. Most rewarding for me is when the kids come back to school after the long break and are excited about something they received that was on the list .
Here is the 2018 list and all of these items remain great suggestions.
I am getting the list out a little earlier this season in time for Cyber Monday as all items are available on Amazon. This also helps procrastinators who can use Prime in a pinch to get gifts in time for Christmas Day or whenever you are exchanging presents. Amazon shopping can be super helpful but please remember to frequent your local retailers, especially ones featuring locally made products.
So....with no further ado let's get into the list.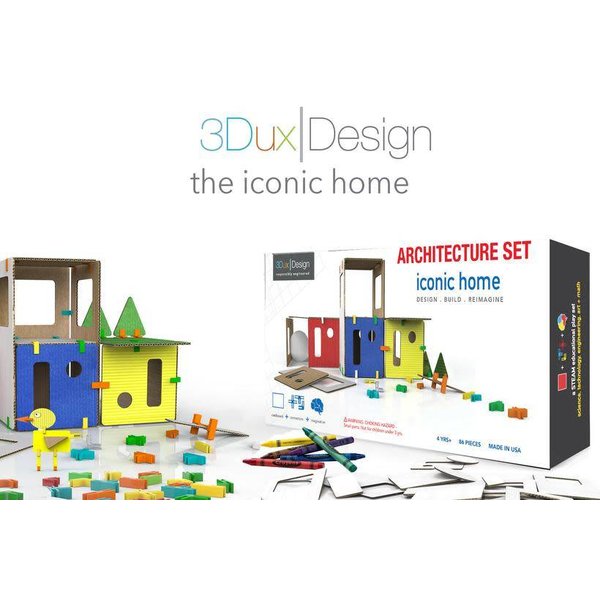 3DUX Design Architecture Set: $27.99
This company was started by a brother and sister who just love to create and build with cardboard. The set comes with an assortment of cut-out cardboard pieces, crayons, instructions, and plastic connectors for building the house featured on the box. The thing I love about this set and the whole 3DUX approach is on its instruction card.
"The 3DUX/Design architectural modeling sets are about the study of form and function. They are about creativity and design thinking. As such, there are no right or wrong way to work with this set.
There are no rules.
"
Plus, all your kids need to do to expand the set is grab a box and cut some new building pieces.
The Worx ZipSnip
I featured last year would be a great companion.
3DUX/Design
offers several other sets, cardboard refills, and connectors on their
website
so give that a look for products as well as further inspiration.
Teknikio Activating Origami Set: $20
Origami is the ancient Japanese art of paper folding, but what makes this gift idea intriguing for the modern kid into gadgetry is the internal circuitry that kids build to "activate" their creations. Each set comes with a stack of folding papers as well as reusable circuitry pieces that allow creations to light up or move.
Teknikio also offers on their website
additional circuitry pieces at tremendously affordable prices so once kids master these pieces they can expand their electronics building skills.
Activating Origami combines paper creations with circuits kids build.
Power Up Paper Airplane Conversion Kits: $19.99-$49.99
I was really surprised last year when I asked fourth graders to fold basic paper airplanes and they had no idea how to even begin. If there is way to bring back this lost art to the current generation then "smart paper airplanes" that involve electric motors and even smartphone navigation in the air are the most likely way to do that. The basic Power Up 2.0 kit ($19.99) allows the user to add a motor and necessary stabilization pieces to common paper airplanes while the 3.0 kit ($49.99) adds a rudder and flaps that are controlled via Bluetooth.
The Power Up website
even offers more customization. For $79.99 (website only) you can build and fly the FPV model that even includes a live onboard camera. The thing I like best about the Power Up kits is that many of the parts are made of carbon fiber and designed to be impact-resistant upon crashing.
Take to the skies with Power Up smart paper airplane
Fat Brain Toys Disgusting Science Kit: $19.95
This one is for the hardcore science kid who's between 6 and 11 years old...or maybe you know a kid who just digs gross stuff. Word to the wise though, this gift might just be the best "revenge gift" on the list. A relative of ours gave me a full drum kit when I was 3 years-old and my mom and dad couldn't wait to get him back. Why not send your adorable nephew home to your big brother's house with all of the makings for creating faux sewer gas, farting slime, and all kinds of other things of the like. This is just one of several Fat Brain toy offerings on this year's list and I am sure you know just the kid this one was made for.
all the fixins for hours of disgusting fun
Squigz - Fun Little Suckers: $24.99-$74.99
Here is a much tamer offering from Fat Brain that is tremendous fun and brain building for all kids. I actually first learned about Squigz from my sister. They were on my nephew's birthday list as they're one of his favorite toys to play with during his therapy sessions for Autism. They can be manipulated in all kinds of way and be stuck to all kinds of things. Wait until Grandpa wakes up in his chair after a Christmas Day food coma to have these silicon suckers stuck all over his forehead. Squigz are great in the bathtub and are dishwasher safe when they need a quick clean-up. The 25 piece starter pack is $24.99 and other sizes are available on Amazon including 50 and 75 piece sets. They are endless fun because the number of ways they can be engineered together is endless.
Blutrack Toy Racetrack Starter Kit: $33.95
A new spin on an old favorite is the best way to describe what BluTrack has done to the plastic tracks kids have been using to race Matchbox and Hot Wheels cars for 50 years. With BluTrack, cars race side-by-side and there aren't a bunch of short sections to assemble with locking connectors. This starter track rolls up into a 18 foot coil and can be configured into loops and hills according to the builder's imagination. Just stretch the track over household items. The starter set includes wall and floor anchors but no cars. There are additional ramps built by the company, but a couple of soup cans or apple sauce jars will work just as well. The track is designed to accommodate any Matchbox sized car but the
BluTrack website
features its own cars including ones that can be loaded up with additional mass for scientific experimentation. The company is actively developing deeper dive kits into the force and motion for both play at home and for the classroom so check out their full offerings online.
Code Girls, The Untold Story of the American Women Code Breakers of World War II: $8.99 Hardcover
I always like to toss a book suggestion onto this list whenever I can and
Code Girls
seems like the perfect fit. Author Liz Mundy explores the work of over 10,000 American women who took on codebreaking missions that provided vital intelligence to Allied Forces fighting the Nazis and Japanese during World War II. Here are a couple of reviews for this, the young readers edition.
"The book reads like a movie script, with interesting characters and non-stop action bringing to life the history these women were making and living...excellent."―School Library Connection (starred review)
"Mundy highlights the lives of the many brilliant women who secretly served the code breaking mission against Nazi Germany and Imperial Japan.... A solid resource for younger researchers."―School Library Journal
Klutz Lego Crazy Action Contraptions Book and Bricks: $16.59
This one comes highly recommended from one of my top First Grade Lego builders. He'd been bugging me for a couple of weeks about buying one of these sets for the classroom. I haven't done that yet but I am super glad that I took the time to at least research what he was suggesting. A classroom set of these are definitely on the post-winter break acquisition list. What we have here is a guide book that takes readers step-by-step through the construction of 16 different really fun projects with Technic style Legos. The cool thing about these kits is that all of the Lego bricks needed are included and I have seen at least a couple of reviewers state that if you were to just buy the Legos on their own, you'd be paying more than the price of this whole kit. Like any Lego adventure, these project guides are just the starting point for further creativity and innovation.
Bloxels: $23.94
If you are really looking for something "techie" here's my top pick this year. Bloxels lets kids physically lay out video game worlds and obstacles by manipulating tiles on a board connected to a tablet app. We hear a lot about kids learning to code and all of the benefits from taking part in activities that build computational thinking. As someone who teaches coding, I see the most impactful learning happen when kids can connect something physical to the programing and Bloxels does just that. The ompany is in a bit of transition right now. Bloxels is wrapping up its contract with Mattel and shifting to a more educational focus as Bloxels EDU.
Any purchasers of the discontinued kits still available on Amazon can migrate to a free account at the new site.
Kids build a game board that is captured by the app and then they are able to play their own game creations.
Fat Brain Toys Timber Plank Set (300 blocks): $39.99
Fat Brain returns to round out this year's brain engaging yet still fun list of great holiday toys. More than just blocks, timber planks provide hours of engineering, problem solving, and creativity. Each set comes with 300 5"x1", 1/4 inch thick pieces of pine that can be built into endless numbers of structures. In STEM these have proven to be extremely engaging from grades K through 4 but people of all ages find planks this size to be incredibly fun and engaging. Building with blocks has proven for years to build logical reasoning and spatial understanding and yields great social benefits when kids create together. Similar planks are even being used in therapy sessions for adults recovering from post traumatic stress disorder (PTSD) as well as in physical therapy for patients regaining dexterity and small-motor control. While other brands of planks are out there, this set is easily the best deal.
Well, there you have it, Mr. Losik's gift guide for 2019. Many of these suggestions are new spins on classic ideas that are designed to hook into the current generation's interests while still delivering the play and learning benefits that have been engaging kids for decades. There's a little something for everyone in this list and it's my hope that everyone has a wonderful holiday season!